Adult Cooking Lessons, Cooking Workshops, or Cooking Demonstration
One to one cooking lesson, couples cooking bonding sessions, newly married, session for single people, Fabienne sits down with you to build a personalised cooking session for you.
Perhaps you want to eat healthier food? Learn how to bake? Make your family go "oooo" when food gets to the table? All you need to do is tell me what you want to achieve and we will work on improving your cooking skills together. If you have any specific requirements I will work with you to ensure menus are free of ingredients which cause allergies or intolerance.
My cooking lessons, cooking classes and cooking demonstrations make a fantastic bonding time for families, friends, or a charity or corporate event.
They've been the focus of charity events for Gefiltefest, Beit Halochem UK, Camp Simcha, Kinloss Synagogue, JW3, Alyth Synagogue, Hampstead Garden Suburb Synagogue, New North London Synagogue, etc… (link to more about me) .
For tailored corporate cooking events, please contact me directly on 07973698046.
If you would like to see more photos about my cooking lessons and cooking workshops, why don't you log into my Facebook page or my Instagram page?
Kosher cooking lessons in London
Cooking lessons are usually given in my kosher kitchen in Hampstead Garden Suburb in North London, but I can also come to your house or venue.
If you would like me to come to you to suits your kosher requirements please do not hesitate to let me know.
"Fabienne's personality shows up when she's doing a cooking demonstration. It is informative, funny, delicious, and she makes it look SOOOOO easy to make, it's just great." A participant at Limmud's Tunisian salads cooking demonstration.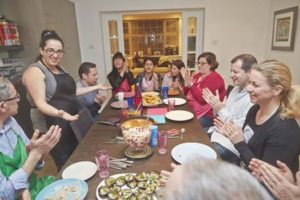 For my latest courses, click here
Prices for Cooking Lessons for Adults
Individual adult, children or teenager cooking lesson are £50 per hour plus cost of ingredients (from individual to six people maximum) with a minimum of 3 hours booking
Group cooking lesson (three hours workshop) are £200 for a maximum of four people, plus cost of  ingredients
Cooking demonstration or cooking workshop at my venue (East Finchley/Hampstead Garden Suburb) or other private venue, group of minimum 8 people, prices start at £45 per person including ingredients
Cooking demonstrations for charity events, fee of £200 plus costs ingredients and cost of cleaning (£50) for a maximum of 20 people (if you have more than 20 people, more preparation will occur and the price might change)
Corporate event and team building cooking workshops, price starts at £65 per person, for a minimum of 6 people, plus cost of ingredients and kitchen rental prices and support cleaning fee during and after the course (£50 for four hours)
"Fabienne came to my house and taught me to cook 3 starters, 3 main courses, and 3 desserts. She makes things look so simple to realise; she transmits her passion and love for food, and teaches you some tips and how to be creative to make her recipes look yours. I never thought I would be able to impress my family and friends so easily!" Michaela V. from London