Planning a party or a corporate event? Buffet style, sit down meals or boxed catering or platters, I deliver delicious homemade meals with a North African, Mediterranean and French touch, straight to your door. I also provide a personal chef service.
You need a salad or you don't have the time, energy or inclination to cook, please give me a call on 07973698046.
If you would like to see more photos about my food, why don't you log into my Facebook page or my Instagram page?
My kitchen has been rated 5 stars out of 5 by Barnet Council Hygiene Team, so it is not only delicious but it is safe as well!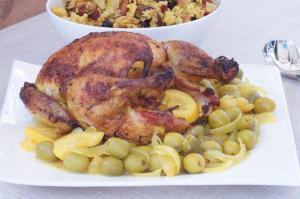 "Thank you for going above and beyond the call of duty! Yours, Debbie and Avishalom T. who visited London from America
 "Fabienne was fantastic and her food brilliant. Her cooking was a huge success at my house and she was the centre of the discussions of our Rosh Hashana table! Cannot thank you enough for the recommendation! Thanks again for helping me out in a moment I needed. You really made our family's Roshashana!! Regards, Jolana R, central London".