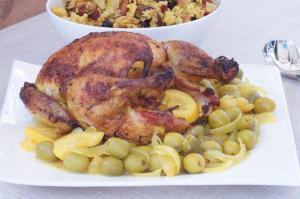 Pandemic is here and my role as a caterer has evolved! I am currently cooking homemade meals (minimum two portions per dish) in batches to ease your life. Menus bundles are available and also cravings meal boxes. My breakfasts options are completely bespoke so please send me an email to inquire and follow me on Instagram for more updates on offers. Deliveries are free in N2, NW11, N3, NW3.
Please inquire within!
When times will get better, we will be planning a party! 
Having a special dinner, sending food to someone you love, please also look at my main menu to find more delicious options still available.
We use kosher meat and vegetarian products in our kitchen.
If you would like to see more photos about my food, why don't you log into my Facebook page or my Instagram page?
My kitchen has been rated 5 stars out of 5 by Barnet Council Hygiene Team, so it is not only delicious but it is safe as well!
You can order by phone on 07973 698046, or by email at info@homecookingbyfabienne.co.uk.
How far in advance should orders be placed?
I will usually need 48 hours to shop, carefully prepare your food and cool it down. If you would like my personal chef service, I will need two weeks' notice.
Payment
I am happy to be paid by direct bank transfer, cheque or cash on delivery. I can also be paid using PayPal.
Conditions of Sale
All orders must be paid for on delivery. Cancellations at less than 48 hours' notice will still be charged full price.
"Thank you for going above and beyond the call of duty! Yours, Debbie and Avishalom T. who visited London from America
 "Fabienne was fantastic and her food brilliant. Her cooking was a huge success at my house and she was the centre of the discussions of our Rosh Hashana table! Cannot thank you enough for the recommendation! Thanks again for helping me out in a moment I needed. You really made our family's Roshashana!! Regards, Jolana R, central London".