JC RECIPE – Summer 2014 – Courgette and artichoke salad with anchovies dressing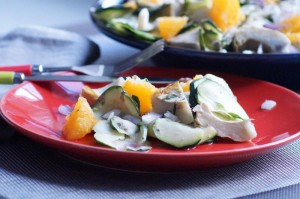 The anchovies dressing in this colourful salad gives a wonderful gentle original flavour, the lemon adds the necessary tangy taste. If you don't like anchovies, you can always replace them with sardines.
For 8, preparation time 40 minutes – Cooking time 30 minutes for the artichokes bottoms
Ingredients
500g of frozen artichokes bottoms, defrosted
3 large courgettes
250g of anchovies
15g of flat fresh parsley
One lemon
Two oranges
One red onion
Coarse sea salt
Pepper
Method
Cut all the artichokes bottoms in four pieces and place them on an oven tray
Add some olive oil all over and roast them at 180C for 30 minutes; let them cool down after that
Slice the courgettes thinly and place them on a serving dish
Cut the onion thinly, and chop the parsley
Prepare some segments with the oranges and keep them aside
In a food processor, prepare a paste with the anchovies
To make your dressing, add the anchovies paste, the juice of the lemon, the parsley, the onion, some olive oil, and some pepper
Lay the artichokes bottoms and the courgettes; add the dressing on top and decorate with the orange segments
Add a bit of coarse sea salt and some pepper
JC RECIPE – Trio of White, milk and dark chocolate mousse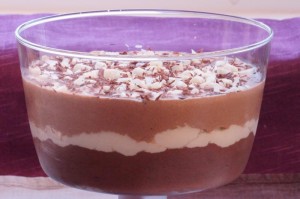 Nothing like a chocolate mousse to finish a meal, but this is THE chocolate mousse to serve to impress
Dark chocolate mousse
6 medium eggs or 5 large
200g of dark chocolate
Method
Separate eggs whites from the yolks
With an electric whisk, beat the egg whites until very firm
Melt the chocolate and add the yolks. Mix very well.
Add the chocolate mix to the whites and beat again well.
Keep aside
Milk chocolate mousse
6 medium eggs or 5 large
200g of milk chocolate
Method
Follow the same process with the milk chocolate to make the milk chocolate mousse
White chocolate mousse
200g of white chocolate
200 of double cream
3 eggs
 Whip the double cream until it is fluffy and not too firm
Separate the egg whites from the yolk
Beat the eggs whites until very firm
Melt the chocolate in a small over a bowl of boiling water, or in the microwave for one minute
Mix the chocolate with the cream and add the egg yolk
Mix this preparation with the egg whites
In a large bowl alternate dark chocolate, white, and then milk.
Keep in the fridge at least six hours or overnight if you can.