JC – Roasted Chicken with olives and preserved lemon
Best made 2 days in advance to enhance the flavours
Preparation time 15 minutes
Cooking time 1.5-2 hours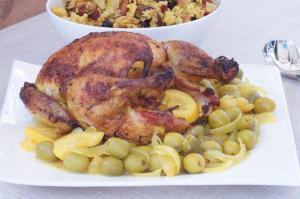 One large chicken roaster of 1.8-2kg
Salt, pepper, turmeric
2 large onions sliced
300ml of Water
500g of green pitted olives
350g of preserved lemon in their juice (keep the juice to pour it over the chicken)
Place the chicken in a roasting tray.
Add the sliced onion, some salt, pepper, and generously some turmeric (about 2 TBS).
Cut the lemon in slices and add a bit inside the chicken and the rest all over the tray.
Poor 300ml of water on the chicken, and the juice of the lemon jar.
The chicken will create its own gravy with its own fat, you don't need to add any oil.
Roast in the oven at high temperature (200C on a fan oven) for 30 minutes.
Remove from the oven after 30 minutes and turn the chicken on the less roasted side, and cook for an additional 30 minutes. Repeat process until the chicken has a beautiful roasted colour. Repeat the process three times.
Add the olives in the last 30 minutes of cooking process.
Oriental rice
Preparation 20 minutes
Cooking 15 minutes
250g of basmati rice
1 large onion
6/8 garlic cloves
Half a tsp of saffron
4/5 table spoons of sunflower oil
150g of mixed roasted nuts
150g of mixed dried fruits
Sugar to caramelize the onion
Salt, pepper
Chicken or vegetable stock
Rinse the rice and drain.
Slice the onion, peel the garlic and cut it in four pieces
Fry the onion and the garlic with oil on a medium heat and let it become brown; add one TBS of sugar to caramelise. Add the rice and the fruits, and the saffron.
Prepare 750ml of water with some chicken or vegetable stock and add it to the rice.
Boil, and then simmer for 10-15 minutes uncovered until the rice is tender but not overcooked. The water will have evaporated.
Add the mixed nuts. Mix all ingredients together and serve.