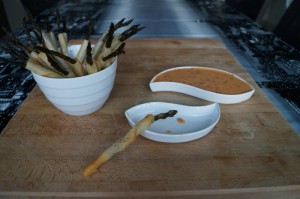 Those original crispy asparagus will make a perfect warm spring starter.
You can also serve them as canapés.
I choose small asparagus dip to make them.
6 brick sheets
24 small green asparagus
3 egg yolks
Vegetable or sunflower oil to brush the brick
300ml vegetable or sunflower for the mayonnaise
Harissa
Wash and cut each end of the asparagus
Steam them for 10-15 minutes approximately until they become tender (you can use a fork to check they are cooked) and put them on some kitchen towel to absorb the water
Cut each brick sheet in 4 smaller sheets (4 squares if the bricks are square)
Roll each asparagus in the brick square, leaving the dip of the asparagus to be seen
Turn your oven on at 180C
Brush each asparagus roll with some oil and cook them in the oven for 12-15 minutes, turning them over after 6/8 minutes
Prepare your mayonnaise while they cook; I use a tiny whisk to make mine;
Add a drop of oil at a time and whisk the egg yolks very thoroughly before adding the next drop of oil; this process should last 10-12 minutes until the mayonnaise is ready and firm
Season with salt, and add a teaspoon of harissa or more if you like it very spicy
You can also use non homemade mayonnaise and add some harissa, but it won't be the same taste!
Serve your crispy asparagus with the harissa mayonnaise and enjoy!