By Zoe Winograd, June 6, 2013
Extract from the article, mentionning Fabienne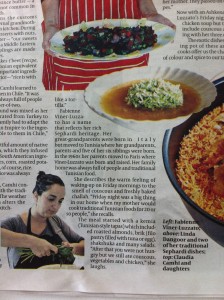 For many of us living in the UK, Jewish cooking is all about the Ashkenazi staples — gefilte fish, cholent and chopped liver.
Yet increasingly, the more exotic Sephardi food traditions are starting to register on our horizons.
Following in the footsteps of Claudia Roden, many of our favourite food writers and cooks offer very different customs. For them traditional home cooking was based on ingredients like orange blossom, tamarind and dates rather than pickles and chicken fat.
Fabienne Viner-Luzzato has a name that reflects her rich Sephardi heritage. Her great-grandparents were born in Italy but moved to Tunisia where her grandparents, parents and five of her six siblings were born. In the 1960s her parents moved to Paris where Viner-Luzzato was born and raised. Her family home was always full of people and traditional Tunisian food.
She describes the warm feeling of waking-up on Friday mornings to the smell of couscous and freshly baked challah. "Friday night was a big thing in our home when my mother would cook traditional Tunisian foods for 20 or so people," she recalls.
The meal started with a kemia (Tunisian-style tapas) which included roasted almonds, brik (filo pastry filled with tuna or egg), shakshuka and many salads. "After that you were not hungry but we still ate couscous, vegetables and chicken," she laughs.
Like her Sephardi peers they also ate a lot of rice dishes, especially on Pesach when traditionally rice was the only staple food available. She explains that Tunisian Jews had many Jewish traditions unique to them such as putting a green leaf on top of the cupboards at the end of Pesach to ensure a green, productive year.
She also learned her cooking skills from her mother. "I remember going to the markets with my mother, choosing the fish and looking at the vegetables. She learnt this from her mother who learnt from her mother who learnt from her mother. They passed on traditions and recipes."
Now with an Ashkenazi husband, Viner-Luzzato's Friday nights do begin with chicken soup but they invariably also include couscous and hours of cooking with her three children.
The exotic dishes from the rich melting pot of these and other Sephardi cooks offer us the chance to bring a host of colour and spice to our tables.