Mushroom soup to be good?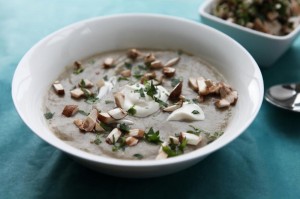 Photo: Sandrine Aim
Serves: 6 Preparation: 30 minutes Cooking time: 15 minutes in a pressure cooker, 45 in a pan
INGREDIENTS
350g mushrooms (cup, chestnuts or forestiere) 4 medium-sized potatoes 1 onion 1.5 litre vegetable stock Olive oil To serve: 150g chestnut mushrooms diced into small pieces A dash of single cream, crème fraîche or pareve cream 15g flat parsley, finely chopped
METHOD
Peel the potatoes and quarter them.
Wash the 350g of mushrooms and cut them in half.
Slice the onion and put it in a pressure cooker or a large saucepan with 4-6 tablespoons of olive oil and sauté until it is golden brown.
Add the vegetable stock, turn heat up and bring to the boil.
Add the halved mushrooms and potatoes and cook in a pressure cooker for 10-15 minutes or at medium temperature for 30 minutes in a traditional saucepan on a hob.
Use a slotted spoon to transfer the vegetables and some of the stock to a blender.
The soup should be a velvety texture — not too thick, not too liquid. Add the stock gradually so as not to thin it too much.
To serve: dice the remaining 150g of mushrooms and sprinkle them over the soup with the parsley and a bit of cream.
Or Mont Blanc, to be naughty?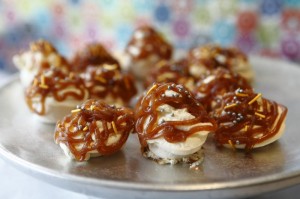 Photo: Sandrine Aim
Mont Blanc is an indulgent dessert that reminds me of childhood trips with my sisters to see the extravagant windows at Galeries Lafayette over the festive season. Afterwards we would always stop at a patisserie for a Mont Blanc each. Those cakes were five times the size of the mini versions here, which makes me slightly less guilty.
Serves 6
Preparation: 45 minutes
Cooking: 120 minutes
INGREDIENTS
For the meringues:
3 white medium sized eggs
175g caster sugar
For the topping:
250g sweetened chestnut purée
300ml double cream
One vanilla pod
Coloured sprinkles for decoration
3 large disposable piping bags
METHOD
Preheat your oven to 100°C.
For the meringues: beat the egg whites until very stiff and gradually add the sugar, beating again until stiff.
Lay baking parchment on an oven tray and use a piping bag to pipe 3cm round mini meringues.
Cook the meringues for two hours. They are done when dried out and easily peeled from the baking parchment.
Leave to cool on a wire rack.
Meanwhile, slit your vanilla pod in half lengthwise and scrape off the seeds.
Put the cream in a deep bowl with the vanilla seeds.
Beat the cream until it holds its shape but is not too firm. It should be like Greek yoghurt in texture — fluffy and light — not too stiff like butter.
Put the cream in a large piping bag — with a medium cut at the end — and refrigerate until needed. Put the chestnut purée in the last piping bag — with a small cut at the end — and also refrigerate until ready to assemble the meringues.
When the mini meringues are fully cooled and just before serving, pipe cream all over each meringue and then pipe chestnut cream in lines over the top of each one leaving space between so you can see the cream below.
Sprinkle with the decorations and serve immediately or soon after assembling so the meringue stays crunchy.