FARKA, this week JC recipe, Happy Chanukha!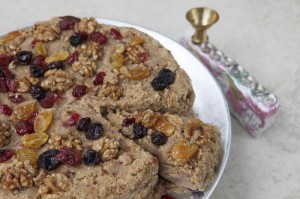 On the 6th day of Chanukah in the Tunisian traditions we celebrate a festival called Rosh Hodesh El Bneit, or Fete des Filles, festival of the girls. The girls received presents from their family,… the fiancées received gifts of all kind from their fiancés. The girls are the centre of attention for the day. We also serve the Farka is the Tunisan recipe is a sweet cake made of couscous and dates, walnuts and raisins,For a 22/25cm square or round dish, for 8/10 people
Preparation: 30 minutes
Cooking time: 60 minutes
Cooling time before eating: one night
500g of fine couscous
500g of medjoul dates
100g of ground walnuts
50g of walnuts
100g of caster sugar
100ml of sunflower or vegetable oil
The juice of two oranges
Orange peels of one orange
150 of mixed dried cranberries and raisins
A bit of almond extract
• Boil some water in a large sauce pan with a sieve that you can put on top.
• In a bowl, wash the couscous. Let it drain on a sieve.
• Reserve some of the whole walnuts, dried cranberries and raisins for the decoration.
• Put in back in the bowl and add the sugar and the sunflower oil, the ground walnuts and the rest of the mixed cranberries and raisins.
• Cut the dates in small pieces and add them to the couscous.
• Mix all the ingredients in the bowl if possible by hand or with a large fork in order to blend them all together and almost puree the dates in the couscous.
• Put the preparation on the sieve and cover it with the lid. Steam the couscous at high gas mark with the lid on the sieve for approximately 30-45 minutes, stirring regularly to make sure all the ingredients blend together and steamed.
• Let it cool down and add the orange juice, a few drops of almonds extract and the orange peels. Mix well and put in a nice square 25cm dish.
• Decorate with walnuts, dried cranberries and raisins.
• Keep in the fridge overnight and serve the cake on the 6th day of Chanukah.